About Accettura & Hurwitz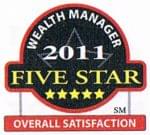 Accettura & Hurwitz, handles the legal needs of senior citizens and their heirs, of young workers and couples planning for their retirement, and of military veterans seeking their benefits.
As estate planners, our goal is to minimize or eliminate taxes, avoid probate, allow you to control the disposition of your assets both during life and after death, and preserve the assets of elders in need of assisted living or nursing home care.
Our other specialties include Medicaid planning and dispute resolution.
In 2011, our attorneys' efforts earned Accettura & Hurwitz Hour magazine's 2011 Five Star Wealth Manager Award, an honor based on clients' overall satisfaction.
Our firm's attorneys have provided legal assistance to thousands of clients throughout Michigan, while P. Mark Accettura's books, articles, and columns have provided authoritative information to thousands more across the United States.