Getting Good Care Without Going Broke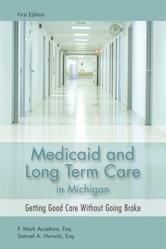 Introduction
In our collective practice of nearly fifty years, we have watched the aging of our estate planning clients and the evolution of the long term care delivery system. As a natural progression of our practice, we have come to advise our clients on elder law matters including choosing appropriate long term care and obtaining government subsidy for as much of the cost as possible.
We should note up front that we address long term care only as it relates to seniors. We have not attempted to address the long term care needs of handicapped children or other adults.
Unlike the consumers of other products and services, the end user of long term care is frequently not the person doing the research. It is often the children of elderly parents who come to us seeking information, and whom we expect will also be the likely readers of this book. Not knowing whether you, the reader, are seeking information for yourself or a loved one, we will simply refer to you, as you.
The care options available to seniors who can no longer independently perform all of their activities of daily living (eating, dressing, bathing, etc.) or instrumental activities of daily living (managing money, shopping, taking medications, etc.) are numerous, overlapping, and confusing. Care options range from in-home services for those with modest impairments to nursing home care for those whose function has been significantly affected. In the middle is a broad and growing category called assisted living for seniors who can no longer live at home but do not require professional nursing care. Assisted living includes adult day care, adult foster care homes (AFCs), homes for the aged (HFAs), and other group living arrangements that provide supervision, as well as social and recreational activities. Residents of assisted living facilities may also purchase assistance with activities such as meals, laundry and housekeeping if they so elect.
Choosing the appropriate care option begins with an assessment of your needs and functional abilities. Ideally, you would move from independent living in your own home to assisted living and then to a nursing home as your capacity to care for yourself diminished. At each step, you would be evaluated to properly match the level of care to your needs.
In practice, many seniors live in their home beyond the point that they can safely provide for themselves, and then due to a sudden event such as an accident or illness must be moved to an assisted living or nursing home facility. The result is that hasty decisions are often made that overlook various in-home assistance options. Planning in advance will give you the greatest likelihood of obtaining the best possible care, and allow you time to make yourself eligible for the government assistance to which you are entitled. Also, as you will see in Chapter Three, many programs have long waiting lists. Those who start early stand the best chance of securing scarce government services and benefits.The long term care system in this country is complicated and fragmented. It is unlikely that you will be able to obtain the best and most affordable care without help. Fortunately, there's lots of help available if you take the time to look. Help in assessment, care planning, plan implementation, negotiation, monitoring, and advocacy is available through a number of sources including your local Area Agency on Aging (Appendix A), long term care ombudsman (Appendix B), hospital discharge planner, and various private geriatric care managers. Each of these resources is invaluable in helping you sort out your options. Naturally, the more time you have to explore your options the better. You will need time to research your care options, including the individual facilities and service providers. This is especially true if you hope to obtain in-home care that will require you to create a patchwork of in-home care services. Also, it is extremely important that you meet with a qualified elder law attorney as soon as possible to begin the Medicaid qualification process discussed in Chapter Six.
The first step is to ensure that your loved ones have the power to act on your behalf in the event that you become incompetent. Again, our experience has been that very few people make their own long term care arrangements. Whether due to neglect or denial of their failing capacity, the task of arranging for long term care is often thrust upon close family and friends with little or no advance notice. Family and friends often recognize their loss of capacity, and the danger of their living alone, long before they do. Almost universally, it is the family who comes to our office seeking our advice about the senior's options rather than the senior himself. For this reason, we recommend that you grant durable power of attorney to trusted family and friends while you are competent. Trusted family members or friends must have the power to interface with government agencies, home care service providers, and nursing home proprietors. Ironically, seniors often rebuff their loved ones, not wanting to give up control until the absolute last minute, and sadly, often too late. If you do not grant others the power to act on your behalf while you are competent, your family will be forced to obtain guardianship and conservatorship from the probate court in a formal probate proceeding.
Even more confusing than your long-term care options are the methods of paying for care. Government assistance for in-home and institutional long term care is available to those who meet stringent medical and financial eligibility tests. Medicaid and Medicare are the two principal government programs that pay for long term care. Basically, Medicare pays for in-home and institutional short term care following a hospital stay, while Medicaid pays for long term care after Medicare coverage runs out and you have exhausted all but $2,000 of your non-exempt assets.
The key is to get started early.
It will take you time to investigate your options, interview service providers, and visit facilities. Also, many of the programs offered by MI Choice (the state run Medicaid program for in-home assistance) have long waiting lists. If your best option is a nursing home, it is important that you enter the nursing home before you have spent your assets down to $2,000. If you attempt to enter the nursing home after you have spent down all of your assets, you will have difficulty gaining admission to a suitable facility. On one end of the spectrum are private pay nursing homes – usually the nicest facilities – that do no accept Medicaid patients (which is what you would be with only $2,000 of countable assets). On the other end are nursing homes whose beds are all Medicaid certified, such facilities will likely not offer the quality care you seek. Ideally, you are looking for a facility with a portion, but not all, of its beds Medicaid certified. Such mixed facilities have the ambiance and care of a private pay facility, and will allow you to stay after you have spent your assets down to $2,000. A mixed facility will give priority to applicants who demonstrate the ability to private pay for a period of time before becoming eligible for Medicaid. If you wait too long and attempt to enter a mixed facility after your assets have been depleted, you will likely be turned away or placed on an interminable waiting list. The nursing home, faced with its own financial pressures, and the reality that private pay and Medicare reimbursement rates are substantially higher than the Medicaid rate, will hold their Medicaid beds for existing private pay patients. Although discriminating on the basis of ability to pay is against the law, it is a common practice.
Medicaid pays for nursing home care, not assisted living –a concept referred to as Medicaid's institutional bias. Be careful that you don't remain in assisted living (or receive expensive in-home care) too long. If you stay until your money runs out, you won't have the private pay funds necessary to enter a nursing home that accepts both private pay and Medicaid patients.
The average monthly cost of nursing home care in Michigan is $5,367 (2005). Without timely planning, your life savings can be quickly exhausted. Health insurance does not pay for long term nursing home care, so it's important to seek and obtain Medicare and Medicaid assistance to defray the cost of long term care. Medicare will pay for the full cost of the first twenty days of nursing home care if it immediately follows and is related to a hospital stay, and a portion of the following eighty days, but it does not address truly long term needs. Without the planning described in Chapter Six, you would be responsible for your own long term care until you had exhausted all but $2,000 of your countable assets. Certain assets, like your house, car, and other items described in Chapter Six are not counted.
As a welfare benefit, Medicaid only provides for basic needs. You or your family must provide for your own personal needs, such as clothing, travel, as well as special medical and dental care. Without planning, you may be left with little or no assets from which to pay the growing number of services and amenities not covered by Medicaid. Other family members may be forced to pay your way or watch as you go without. Fortunately, there are a number of legally proven strategies discussed in Chapter Six that allow you to become Medicaid-eligible without exhausting all of your assets. To employ the Medicaid strategies discussed in Chapter Six you must either be competent, or grant someone authority to act on your behalf in a Medicaid friendly durable power of attorney. Since some of the strategies take several months to employ, it is critical that you execute a Medicaid durable power of attorney in the event you become incompetent during the process.
Many of the Medicaid strategies involve some form of gifting. Michigan law does not recognize the power to make gifts unless the power to gift is specifically referenced in the power. A general power of attorney that is part of a typical estate plan or a power of attorney you get at the hospital or on-line will generally not contain appropriate gifting language. You need the assistance of an elder law attorney to prepare a proper Medicaid durable power of attorney. People seem very familiar with the rule that you cannot qualify for Medicaid by giving your assets away just before you apply. On the surface, the Medicaid divestment rules do appear to bar the transfer of assets (for less than fair consideration) within thirty-six months of your application for Medicaid, or five years for transfers in trust (we often refer to the person applying for Medicaid as the applicant). In practice, substantial planning is permitted within the look back period (the thirty-six or sixty month period) since transfers made during the look-back period cause disqualification for a limited period measured by dividing the amount transferred by the average monthly cost of nursing home care in Michigan $5,367 (2005).
Some have criticized the type of Medicaid planning outlined in Chapter Six as inheritance protection and somehow wrong. They argue that such planning violates the spirit of the law, creates artificial poverty, and shifts the burden for long term care to the government. We disagree. The law clearly delineates where the government's responsibility ends and where the individual's responsibility begins. As with the income and estate tax laws, we counsel our clients to follow the laws strictly to pay as little tax as possible. In the area of taxation, no one would argue that you should pay any more tax than you are legally required; why should you pay more than your fair share of nursing home costs?
There is a strong sentiment among older Americans that the government should subsidize their long term care. They believe that their life savings shouldn't be wiped out if they require an extended stay in a nursing home. Certainly, the Michigan legislature is well aware of this sentiment, fearing a senior voter backlash if they tighten the Medicaid system to either prevent all forms of divestment or enact estate recovery (discussed later). It is this strong belief that fuels Medicaid planning. No one should underestimate the passionate resolve of most seniors that their nest egg belongs to them and their children and should not be touched by government.
We recommend that you follow the law, but not follow it blindly. Today, ignoring your options can wipe you out financially. If you are married, you must be assured that your community spouse (the term used to define the non-institutionalized spouse) has sufficient assets to care for him or herself if your go into the nursing home. If you follow the techniques described in this book, you will preserve you and your spouse's (if applicable) financial security and peace of mind. As our population ages and as federal and state resources become more strained, it will become increasingly important to understand how the long term care delivery system works. Savvy consumers will receive the best available care and the greatest federal and state reimbursement.
If the current state of affairs doesn't sound promising, it's going to get worse. States, with shrinking revenues and an aging citizenry and the federal government with its spiraling deficits have been forced to cut back on their Medicaid budget. As baby boomers begin to age, the pressures on the system will become even more intense, requiring you to become even more savvy in your search for shrinking resources.
Despite the recent national focus on the Social Security system, many believe that a much greater crises looms for Medicare and Medicaid. When it comes to retirement, the American public long ago came to the realization that they cannot count on government alone to provide for their retirement. Interestingly, no similar epiphany has occurred in the area of long term care. We have included a chapter on long term care insurance in the belief that in many cases it is prudent to transfer the risk of an extended nursing home stay to an insurance company. If you are relatively young and healthy, and have disposable income or assets, you should consider purchasing long term care insurance. In addition to traditional nursing home coverage, long term care insurance can be customized to cover forms of care for which little or no government assistance is available: in-home care and assisted living.
The cartoon that follows is an example portraying our attempt to add a little levity to a weighty subject.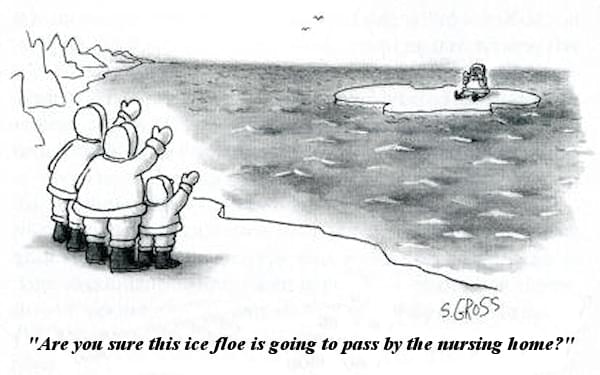 Sincerely, P. Mark Accettura